2023 Featured Artist – Kelly Atkinson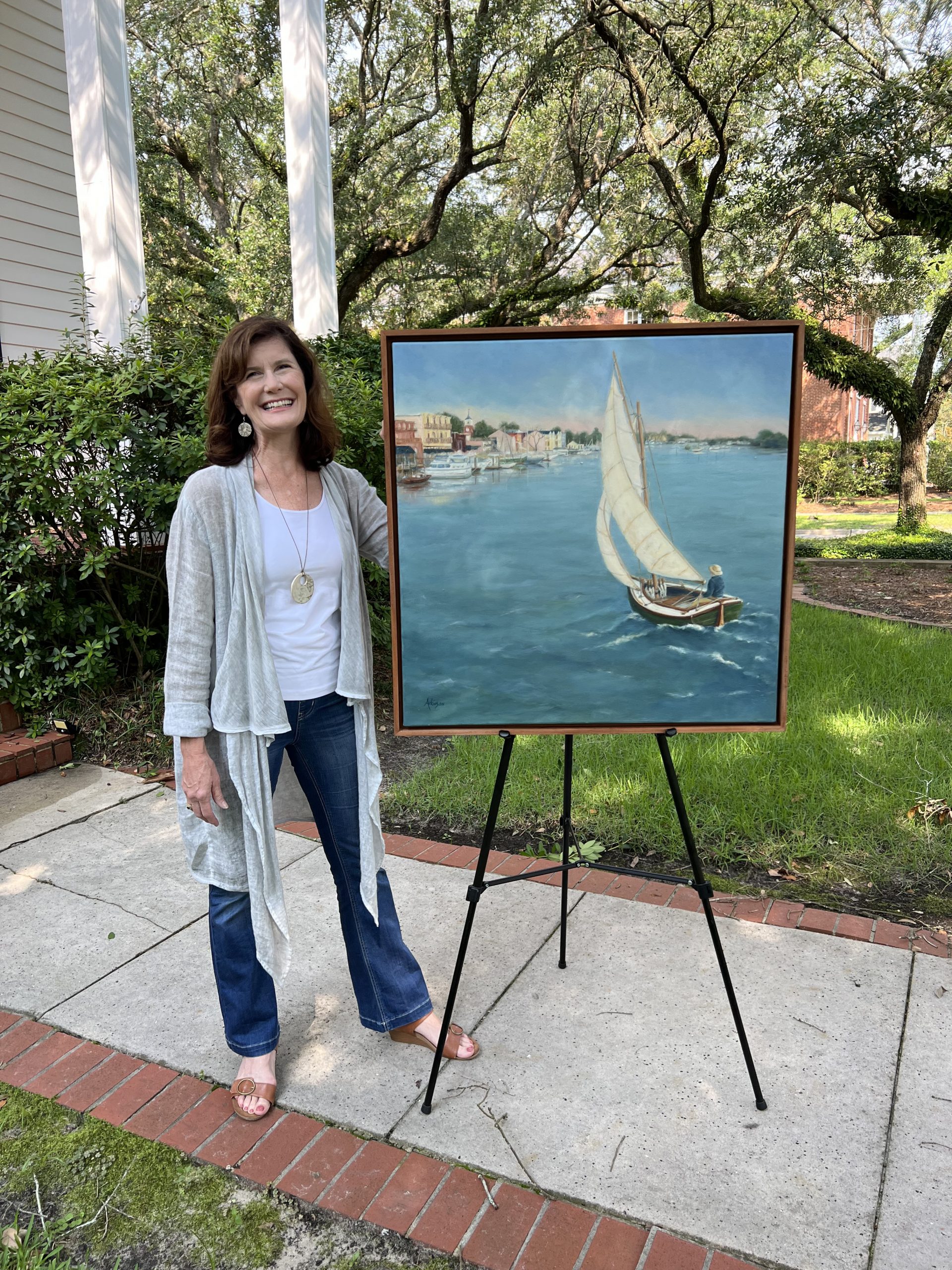 Sunset Cruise, Georgetown, SC

In the bustling and beautiful resort enclave of Pawleys Island, SC, the Lowcountry's noteworthy art circle counts among its own a passionate painter named Kelly Atkinson. Accomplished as an artist, a visionary entrepreneur and a busy gallery owner, Kelly's journey is a testament to the power of following one's heart to shape a life that is both multifaceted and meaningful. And it's a journey that makes for fascinating conversation with this soft-spoken powerhouse of a woman who exudes tranquility and humility.
Born to artistic parents, Kelly and her identical twin, Carol, showed signs of talent in childhood. Kelly played flute and violin and began painting – as did her sister – at a young age. Perhaps surprisingly, though, Carol was more prolific in the early years while Kelly additionally took a keen interest in the business world. Ultimately, she graduated from Queen's University with a major in business and a minor emphasis in art. That decision served her well when, as an adult, she began pursuing commercial ventures related to art. With several successes at her back, she is currently a part owner and co-manager of Island Art Gallery, a fine-art gallery in Pawleys Island, where she has painted, taught, and mentored other artists for more than a decade.
For a glimpse into Kelly's multidimensional character, there is a wealth of particulars to share. Foremost, she is deeply dedicated to her family. Stories about them, accolades for their talents, and gratitude for their support are woven through nearly every thread of conversation. Her three sons, successful adults now, always had a place at her elbow as she worked. She made each of them part of the whole, the businesses and the art. She praises her husband, a thriving family doctor, for his unwavering help and encouragement throughout their 36-year marriage. And she's clearly besotted by her first grand (with another close behind!), making time and opportunity to be with him as frequently as possible.
It is equally important to know Kelly has a passion for integrating learning into her busy world; she's studied under notable artists and continues to read and research other artists and seeks out workshops to learn more about art history and new techniques. Her love of teaching others is practically palpable. And mentoring, in the fields of business and art, comes so naturally it's nearly an afterthought.
Kelly wears multiple roles like a customized glove. She laughs easily and often and radiates calm (although, under the proverbial radar, she's spinning a dozen pretty plates). Her art includes pencil sketches to watercolors, oils to pastels, and more. Her subject matter is as diverse as the mediums she employs. Surf crashing against sandy shorelines, sunsets painting the sky, the delicate dance of seabirds, farmscapes, busy streets and ribbons of creek. Animals and flowers. Portraiture and plein air. Commissions are also a joy. She embraces all of it and notes that the process is as important as the finished product. "To me, the practice of creating art and the resulting line-up of work is a bit like keeping a diary," she says, "… whether it is hanging on my wall or on someone else's each piece chronicles a chapter in my life."
As to this year's official Wooden Boat Show painting, the backstory offers proof Kelly was fated to be the featured artist. Earlier in the year, she and her husband were enjoying a sunset meal at a Front Street restaurant on the Harborwalk. The view overlooking the Sampit River and stretching toward Winyah Bay was picturesque and the lighting, in particular, caught her creative eye. As she often does, she took a flurry of photographs to capture the moment. She had no plan in mind. A couple of weeks later, quite by surprise, she received a call from a Wooden Boat Show official asking her to create this year's artwork. A discerning committee had studied her body of work and handpicked her to paint just the right piece. Delighted by the invitation, she realized the inspirational pictures were already on her phone.
The subject matter – water, boats, and sailing – is near and dear to Kelly. She grew up boating with her family and spent nearly every weekend during the early years of her marriage sailing in and around the Charleston Harbor with her husband. She already loved boats, but the sense of freedom that characterizes sailing hooked her for life. That feeling of freedom is skillfully captured in the wind-filled sails of the one-man sloop that's pointed toward the Bay. Look closely at the row of boats lined against the Harborwalk; the boat on the far left is her Father's beloved Chris Craft, a wooden boat known for its classic beauty and craftsmanship. Above all hovers the lovely light and colors of a falling sun that set Front Street aglow. It is an exquisitely evocative piece of art that will be auctioned off on the evening of October 20 at the annual Goat Island Yacht Club Regatta, the event that officially kicks off the Wooden Boat Show. Proceeds will benefit the SC Maritime Museum. Posters and T-shirts featuring the painting are available for sale at the SC Maritime Museum.
Beyond her local success, Kelly's artwork continues to earn recognition on a broader scale. Her participation in juried exhibitions regularly leads to critical acclaim and coveted awards. Cherished pieces have found homes in private collections near and far. Despite well-deserved renown, Kelly remains grounded and deeply devoted to her family, her art, her students, and the larger community, a testament to her humility and a genuine love for what she does – for the art itself and all that art does for the world.
Visit Kelly at Island Art Gallery and let her introduce you to a hub of creative energy that will inspire and delight. Follow the Gallery on Facebook and Instagram and surf often to their website, PawleysIslandArt.com, to stay abreast of classes and workshops for beginners and those who want to polish their talents. The gallery walls feature more than two dozen artists, and you will want to take advantage of seasonal and themed shows. Kelly's personal website, KellyAtkinsonArt.com, is a great place to peruse her work. Get set to be impressed.
By Kimberly Duncan