2020 Georgetown Wooden Boat Show
Because of the COVID-19 virus, the City of Georgetown is not issuing any permits for public events. With that said, we are unable to hold our traditional Wooden Boat Show (GWBS) and Goat Island Yacht Club (GIYC) Regatta.
To keep the GWBS and the GIYC traditions going, we have made plans to celebrate Georgetown's maritime heritage during the whole month of October with events and activities held at the SC Maritime Museum and at Maritime Park. We hope you will join us! Here's how:
PLUS: Check out the Smithsonian's Water/Ways exhibit and programs held at the SC Maritime Museum
– Keeping Our Maritime Heritage Alive!
---
Be sure to check our Facebook page and Schedule of Events for updated event information.
---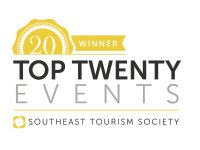 The Georgetown Wooden Boat Show – always held on the third weekend in October – features one of the Southeast's best wooden boat exhibits with over 100 classic wooden boats displayed on land and water, children's model boatbuilding, knot tying, maritime art and crafts, food and music.
A special attraction is Saturday's "Wooden Boat Challenge" boat building competition when teams of two race to build a rowing skiff within a 4-hour time limit and then test their boats for seaworthiness in a rowing relay on the Sampit River.
The Wooden Boat Show takes place on the waterfront and along Front Street in Historic Downtown Georgetown. The Show is produced by the Harbor Historical Association, a 501(c)(3) tax-exempt organization.
Proceeds from sponsorships, donations and sales benefit the SC Maritime Museum.
---
2019 WINNERS! Exhibit Winners | Boat Building Challenge Winners | Corrugated Boat Regatta Winners
---