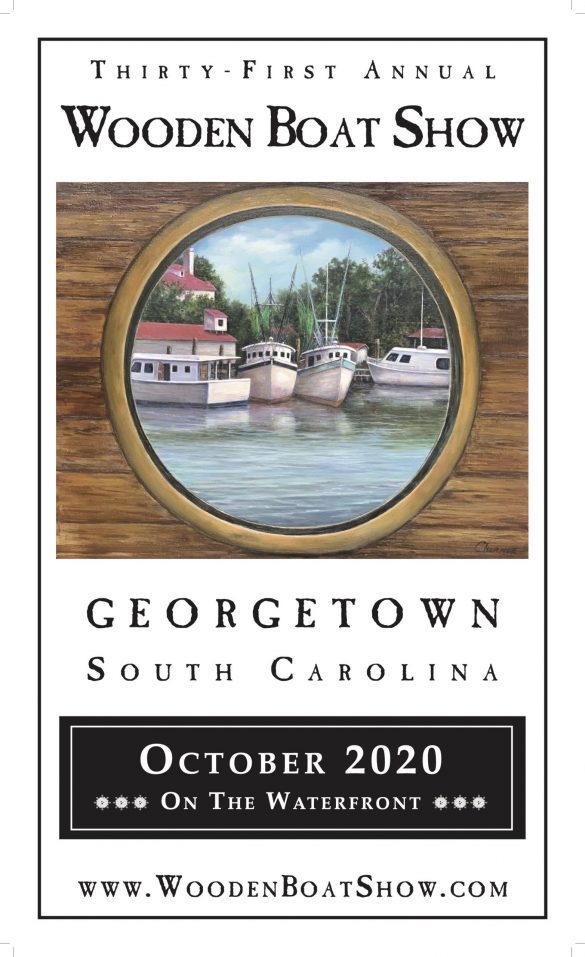 2020 – Cathy Turner
"I was coming into Georgetown through the no wake zone and saw the red buildings of Independent Seafood. One day it would have shrimp boats docked there, and another day it would have different boats. So I kept thinking to myself, 'What would it feel like if I were on a wooden boat, coming in to dock for the boat show, and I was looking out of my porthole?' And that's what I decided to paint."
The result is a handsome and vividly colored depiction of four wooden boats as seen from the porthole of another wooden boat. It shows a day in the life of Georgetown, and its unique character and beauty.
Read More
---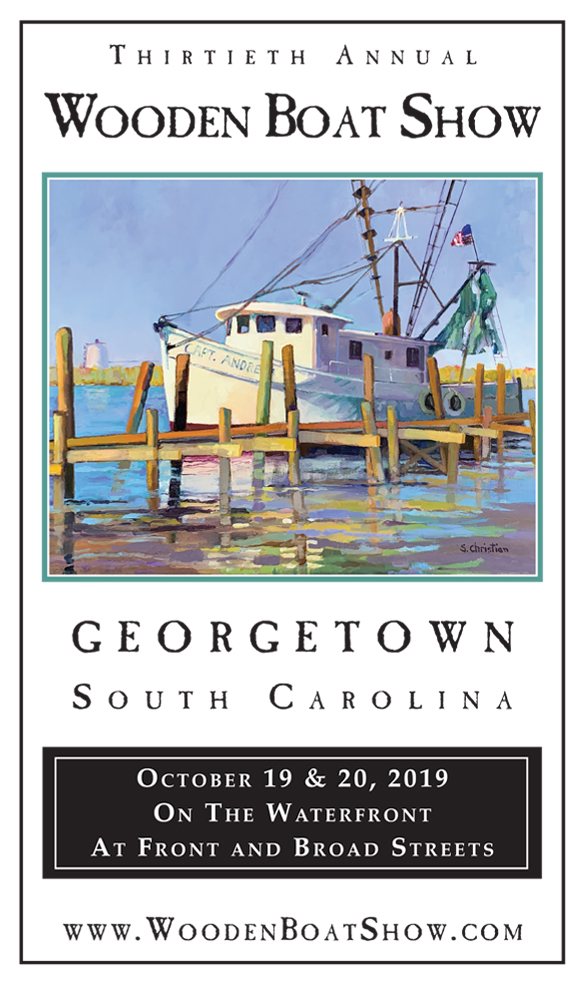 2019 – Suzanne Christian
Suzanne Christian was destined to be an artist from birth.
"It was intentional," the 2019 Georgetown Wooden Boat Show poster artist said recently at the South Carolina Maritime Museum. "I was named Suzanne after my dad's favorite sister, who was indeed an artist.
When she was asked to paint the poster art for the Georgetown Wooden Boat Show, Suzanne headed to the Front Street docks to take photos. What she found was inspiring, and she chose to paint the Capt. Andrew, which is one of the city's most historic wooden boats.
Read More
---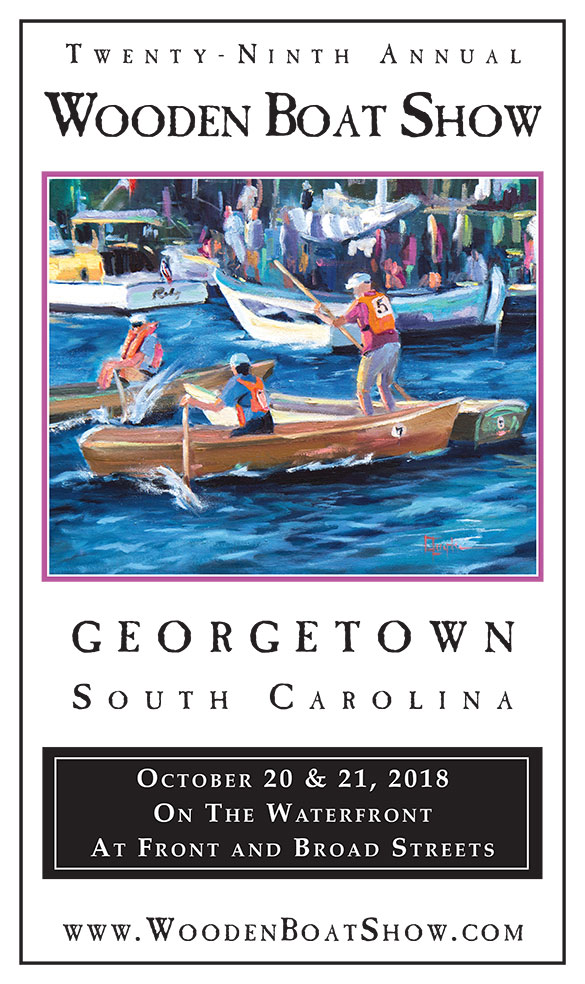 2018 – Cathy Lumpkin
Cathy Lumpkin has advice to give about painting: It's never too late to start.
They're sage words from a woman who began to paint her oil-on-canvas pieces at age 50, and whose art is now featured on the 2018 Georgetown Wooden Boat Show poster. Her painting depicts a colorful and impressionistic recreation of a photo taken during the show's popular (and often hilarious) boat race, when teams of two each receive identical materials and time spans to build wooden water crafts, and then race them on the Sampit River.
Read More
---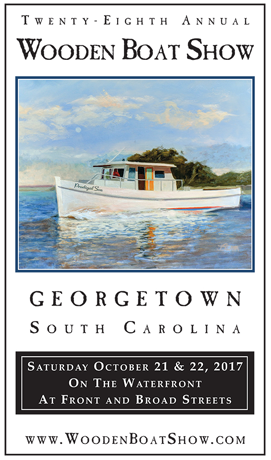 2017 – Jef Sturm
A love for and mastery of landscapes and light shine through in the 2017 Georgetown Wooden Boat Show painting by this year's artist, Jef Sturm.
Anyone who has seen the shrimp boats in the Tom Hanks movie "Forrest Gump" will recognize the historic era from which this year's featured boat was launched. The Prodigal Son, a familiar sight in Georgetown Harbor and Winyah Bay with Captain Ronnie Campbell at the helm, is typical of wooden shrimp boats from about 50 years ago except for one major deviation: Its rigging was removed.
Read More
---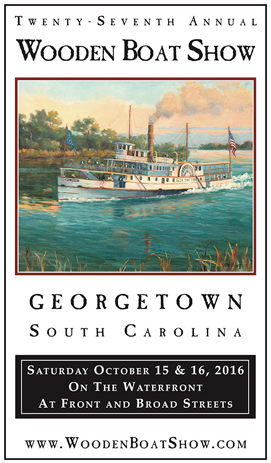 2016 – Judy Maring
If someone wanted an accurate portrait of Judy Maring, the 2016 Georgetown Wooden Boat Show Poster Artist, imagine the famous self-portrait of Norman Rockwell.
Not that Maring paints in the style of Rockwell, but she would be in her spattered work clothes, in the second story studio at her circa 1882 home at the corner of Prince and Cannon streets, just two blocks from the South Carolina Maritime Museum. Although Maring is in her sixties, it's easy to see a young girl in her eyes, which are full of life and good humor. It was as a youngster that she was first exposed to an artist's passion.
Read More
---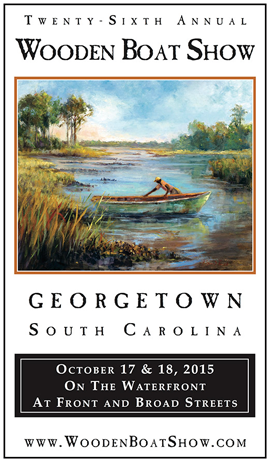 2015 – Pat Puckett
Pat Puckett painted a master craftsman in her artwork titled Lowcountry Oysterman for the 2015 Wooden Boat Show poster, and the image is homage to renowned boat builder Willie Dereef.
The viewer can tell his legs, hidden behind a small wooden boat, are planted knee-deep in the pluff mud of Oyster Bay in North Inlet. He is gathering oysters from nearby banks, and the fading-yet-brilliant colors of fall are in the surrounding reeds, grasses and trees.
Those measured splashes of color and intricate plays of shadow and light, especially ones resulting from the cool and fleeting brilliance of early mornings or the soft warmth of late afternoons, are part of the joys of painting that Puckett has embraced.
Read More
---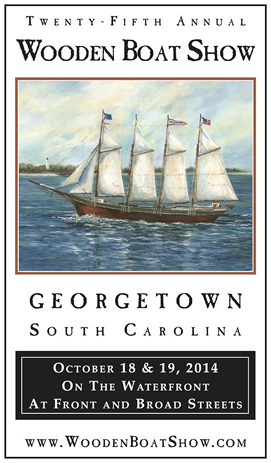 2014 – Johnnie Cowan
Johnnie Hare Cowan's life and career are a perfect mesh with her role as 2014 Georgetown Wooden Boat Show poster artist. Cowan's father was a colonel in the U.S. Army, so she traveled in her childhood. Six years of that time was spent in Europe where she visited many museums while living in Orleans, France, which is a river town with a fine arts museum. Cowan's grandfather, Frank Creighton Hare, was an artist and college professor, and it seems his talents were passed on to his granddaughter.
She says she can't remember a time when she didn't paint and draw, but it wasn't until Cowan attended the University of South Carolina that her talent bloomed. "I majored in history," she says, "and I took an art course for fun. The teacher convinced me I should be in art. Her major was changed to studio art, and art history and architecture classes filled her schedules.
Read More
---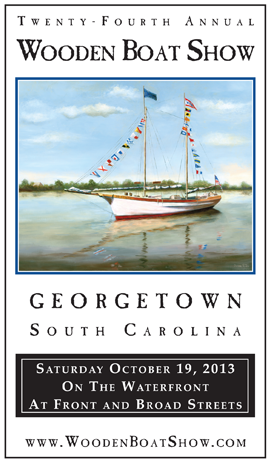 2013 – Susan Tiller
Susan Tiller recreated and enhanced a valuable piece of Georgetown history with her painting titled "Dressed for the Occasion,". Her husband, Hank, suggested painting a pilot boat. Pilot boats help guide ships into harbors, either by leading them or by bringing a harbor captain who boards the ship and pilots it to the dock. "They'd never done a pilot boat before for this event," she said, "and shipping was an important industry here."
Tiller contacted Georgetown harbor pilot Edwin Jayroe and asked if he had any vintage pilot boat photos. He owns a black and white photo of the W.D. Morgan taken on Dec. 19, 1905, when Georgetown celebrated its incorporation centennial with a street parade and a boat parade. Its namesake owner, W.D. Morgan, was a much beloved mayor of Georgetown from 1892-1906, and he used the pilot boat as a yacht.
Read More
---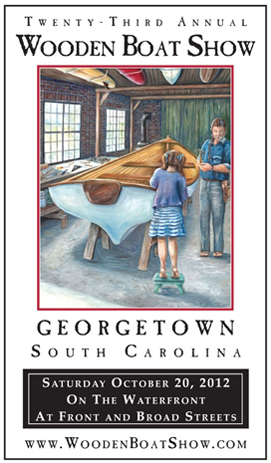 2012 – Keels Culberson Swinney
Keels Culberson Swinnie is an artist, a savvy business woman, daughter, wife, sister and friend. A Pawleys Island native, she was born with an artistic temperament, an eye for beauty and a proclivity for tree-climbing, boat-building and mischief-making.
Somewhere along the way, perhaps one of many falls from the many trees Keels climbed, she damaged her hip. Simultaneously child and warrior woman, she toughed it out so that her injury went undetected for some time. Then she was forced to undergo major hip surgery – at the tender age of six. All her considerable energy was trapped in a full body cast for nine very long weeks. That's when she discovered an innate love of art.
No one in-the-know will deny Keels came by her talent honestly. Her father, Henry Culberson, is well known and loved throughout the Lowcountry for building surfboards, crafting exquisite boats, masterminding woodworking projects, raising bees and other uncommon endeavors. He is also a former Georgetown Wooden Boat Challenge competitor – and winner.
Read More
---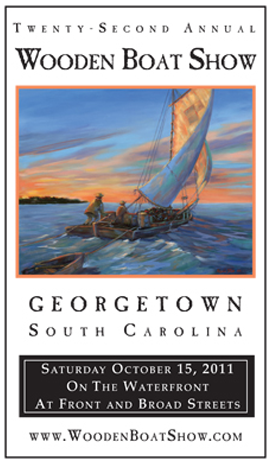 2011 – Angela Askins Tiller
"Headin' Home" portrays a South Carolina Flat Bottom Oyster Sloop – circa early 1900's – heading across Winyah Bay laden with the day's catch.
Everyone who views "Headin' Home," the painting created by artist Angela Tiller for use in the 2011 Wooden Boat Show poster, is amazed to learn Tiller has been painting for only eight years. "My first medium was cake decorating," Tiller said. "My mom would bake the cakes, and then Dad and I would mess around decorating them."
After a long career in the healthcare field, Tiller retired in 2003. While at a family get-together her sister-in-law suggested an activity to keep her occupied; painting was the result.
During her eight years as an artist, Tiller has immersed herself in the craft by attending many workshops held by artists such as Michael Shane Neal and Everett Raymond Kintsler, and for four years a major part of Tiller's development was spent studying with Elizabeth Bronson of McClellanville.
Angela's painting is from an original by Gilbert Maggioni in Tidecraft: the Boats of South Carolina, Georgia and Northeastern Florida, 1550-1950, c 1995, by William C. Fleetwood, Jr. May not be reproduced in any form without the express written permission of the author.
---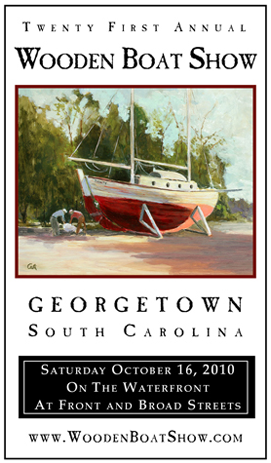 2010 – Jim Calk
Many boats are docked along the river, but the boat Calk chose to paint for the Wooden Boat Show poster has sat on stilts at nearby Hazard Marina for a decade. The boat is called Fugacity. "I looked it up," Calk says. "Fugacity means fleeting, transitory, fading early, like the bloom of a flower falling off before it's ready.
When we started coming to Georgetown one of the first things I saw was that boat. For some reason it didn't jump up on the canvas, but I always wanted to paint it. But when the boat show poster opportunity came along, I knew immediately what it was going to be, and the boat almost hopped right up on the canvas. It didn't give me a bit of trouble."
Jim Calk paints in oil, watercolor, and pastel in an impressionistic poetic style. He has studied under international master painters.
Jim has won many awards, exhibited widely and is collected by private and corporate collectors. He has won awards and exhibited in many shows such as Greenwood Festival of Flowers (second place award), South Carolina Watercolor Society Traveling Show (top 30 paintings), Anderson Art Council Show (juried), South Carolina State Fair many times, received First Place and Best in Show in the Winyah Art Association Show, two man show Rice Museum, Georgetown, S.C. and National Steeplechase Museum Show, Camden, S.C.
Calk received his formal education at Newberry College where he had his first one-man art show in 1963. A classically trained pianist, Calk has performed in many states, is married to artist Betsy Havens and lives in Georgetown, South Carolina. Learn more at www.calkhavensgallery.com
---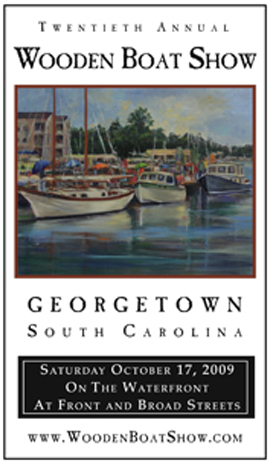 2009 – Betsy Boyle Harper
Betsy Boyle Harper has enjoyed drawing and painting for as long as she can remember. Her mother Deloris Boyle is a well-known portrait artist and encouraged her interest in art from an early age.
"As a teenager, I sketched portraits of my friends and received my first 'commission' to sketch a portrait of my English teacher's daughter."
Instead of pursuing a future in art at that time, Betsy ventured down other paths, majoring in math in college and then pursuing careers in banking and real estate.However, at 30 years of age she finally began to study art seriously and decided to specialize in portrait painting. "It was not my plan – but God's. I studied with my mother for months and soon began receiving commissions. It has been a wonderful adventure that continues to this day."
Betsy has completed more than 400 commissioned portraits. She has enjoyed the opportunities to travel and meet so many interesting people. In recent years, Betsy has invested more time in her landscape painting. "The beauty of the wildlife and low country almost demands that I paint it. For instance, I was kayaking one day and had the opportunity to get up close and personal with a beautiful blue heron who posed for at least 10 minutes. How could I not honor his patience by painting his portrait?"
Betsy loves to delight visitors to her gallery with stories of the places and birds she has painted. "I am absolutely amazed by the beauty of the area in which I am blessed to live. I never tire of painting it."Betsy is a member of the Portrait Society of America. She resides in Pawleys Island, South Carolina.
Learn more at www.theboylegallery.com
---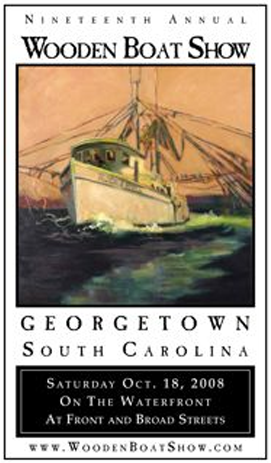 2008 – Betsy Havens
Betsy Havens began her artistic studies at age 12 and studied art throughout her school career. Educated at the University of Georgia and the University of South Carolina, she earned a Bachelor of Arts in Design and did graduate work in the History of Architecture and Southern Literature.
Ms. Havens has received many awards for her work, which is collected widely by private and corporate collectors. She paints the American lowcountry – shrimpers, basket weavers, and street scenes – with great emotion and color.
Betsy and her husband, artist Jim Calk, live and paint on the waterfront in Georgetown, South Carolina.
Learn more at www.calkhavensgallery.com About the Rock and Roll
For many years the Rock and Roll hailed from the port of Georgetown, South Carolina. She is a stalwart wooden shrimp boat built in 1958 in Supply, North Carolina. While working out of Georgetown, the captain and owner was Allen Miller, who, with his wife, Gail, cared for her as she glided in and out of the harbor to the seas beyond in search of the "pink gold". The Millers sold her in 2004 and she now fishes out of McClellanville under the new name, Shirley Mae.
The Rock and Roll weighed 43 tons, was 53.3 feet long and 17.4 feet wide. Her crew took great care in maintaining the diesel engine and the wood which was constantly in need of painting and repainting. The refueling, repairs, maintenance, cleaning and washing of decks were required every evening during the season in preparation for work the next morning beginning at 2:00 or 3:00 a.m. as she headed back out to sea.
For generations watermen have harvested shrimp from our coastal waters. This way of earning a living is seriously threatened now. Shrimping is a fading part of low country history. Shrimp farming in ponds and imports from other countries are competition difficult to match. Ever rising fuel costs are an added threat to this industry in which many shrimpers have worked their entire lives in order to support their families. This painting of the The Rock and Roll by Betsy Havens pays homage to the few lovely "ladies" remaining in our beloved southern waters.
---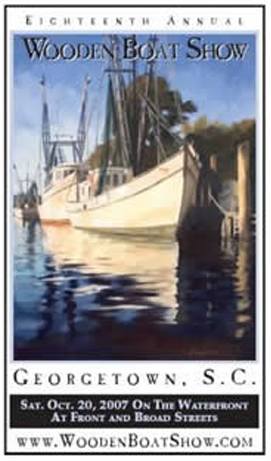 2007 – Betsy Brabson
Artist Betsy Brabson's oil painting of Georgetown shrimp boats was selected as the artistic centerpiece for the 2007 Wooden Boat Show.
The 16″x20″ original work depicts shrimpers docked in the bay near Independence Seafood in Georgetown. Brabson, who has been a t-shirt design artist for more than 22 years, came across the scene that inspired this painting as she and her husband enjoyed an afternoon on the water in their jon boat.
Betsy Brabson was born and raised in Charlotte, NC. She moved to Georgetown County, SC, in 1991 with her husband Bill and two children. Brabson's son Wylie is now 23 and attended the Nascar Technical Institute near Charlotte; daughter Tyler attends the University of South Carolina in Columbia.
Brabson takes painting lessons from several noted local instructors and studies the works of others. She often likes to work in the Impressionistic style and admires the paintings of Charleston artist Shannon Smith, among others.
In addition to her fine art painting and t-shirt design business, Brabson is active in the SCUTE (South Carolina United Turtle Enthusiast) organization which supports the protection of loggerhead turtles.
---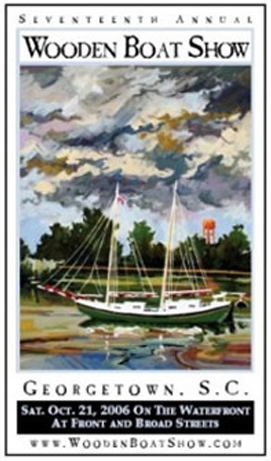 2006 – Joseph Cave
Artist Joseph Cave's original oil painting, "Sailboat on the Sampit River", was photographed to create this year's Wooden Boat Show poster and T-shirt design.The original oil on linen was auctioned at the Big Blow Auction to benefit Georgetown's Maritime Museum.
Born in Columbia, SC in 1936, Joseph Cave attended the University of Georgia (Athens, GA) where he studied painting from 1954-58. He went on to attend the San Francisco Art Institute (San Francisco, CA) and received a BFA in Fine Arts in painting in 1962, and a Master of Arts in 1964 from San Francisco State University.
Cave has taught at several institutions including the Memphis Academy of Art, Southwestern at Memphis, San Francisco Art Institute, and San Francisco State University.
Joseph Cave's landscapes and still life's have been in numerous one-man exhibitions throughout the United States and abroad. He is inspired by early landscape artists, American scene painters, and French Impressionists.
To view more paintings by Joseph Cave visit the Cheryl Newby Gallery in Pawleys Island, South Carolina or online at www.cherylnewbygallery.com.
---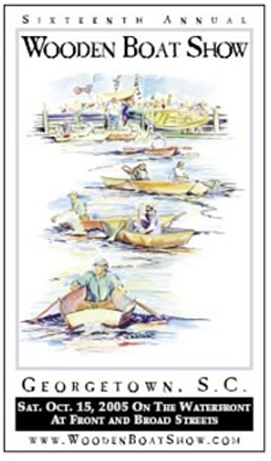 2005 – Kaytee Esser
Artist Kaytee Esser was commissioned to create the art used for this year's Wooden Boat Showposter and t-shirt design.
Esser's original watercolor captures the fun and excitement of the final segment of the Wooden Boat Challenge boatbuilding competition – the rowing relay. This race across the Sampit river determines the seaworthiness of the finished boats as well as the rowing ability of the boatbuilders.
Esser, a Hilton Head resident who lives and works on her boat, describes her style as "colorful and impressionistic with a splash of the erotic."
Kaytee paints mainly boats, people and animals. She enjoys working in pastel, watercolor, gouache and acrylic, but has a preference for oil because she is able to paint in all weather," cold or hot, windy or not."
Esser is a member of the Portrait Society of America, American Society of Marine Artists and the Hilton Head Artist League. Her paintings can be seen at shows throughout the southeast.
Learn more at www.kayteeesser.com.
---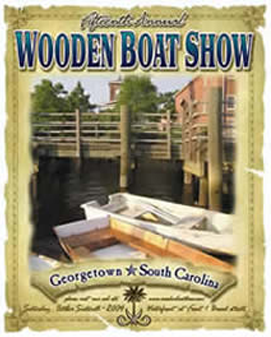 2004 – Pat Schirtzinger
By Jason Lesley, GEORGETOWN TIMES
When Litchfield Beach photographer Pat Shirtzinger saw the rowboats tied up along the Harborwalk in Georgetown, he knew he had the elements of a good photograph. There was the art of the boats themselves and the sense of place provided by the town's clock tower in the background. He leaned as far back on the floating dock as he dared and clicked the shutter on his Olympus digital camera.
He had a winner. Shirtzinger's photo was selected for the 15th annual Georgetown Wooden Boat Show's poster.
Pat and his wife Susie moved to the Litchfield Country Club area a little over five years ago after he retired from Lucent Technology in Reynoldsburg, Ohio. They had been vacationing in the Litchfield area for 35 years and bought a lot in 1987. We fell in love with the place, Pat says. He spent many vacation hours shooting Litchfield scenes that are long gone from view these days.
As his children began to excel in sports, Pat got more interested in photography. Today, each of his three children and their families have their own wall of photos in the Shirtzinger home. There's daughter Stephanie and her husband, Duncan Puffer, with sons Luke and Lance of Duluth, Minn. And son Patrick and wife Susan with children Patrick, Ashley and Loren of Mansfield, Ohio. And daughter Natalie and husband, Steve Fox, with son Zachary in Reynoldsburg, Ohio. Pat even shot his daughters' weddings.
The Shirtzingers have other hobbies. She paints and he does some he does some woodworking. He just finished a rocking moose for one of his grandsons.
---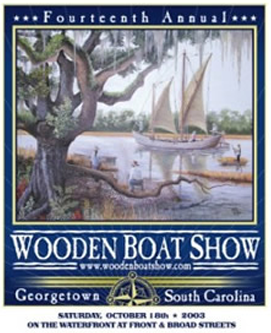 2003 – Bob Likes
By Jason Lesley, GEORGETOWN TIMES
When artist Bob Likes of Surfside Beach visited Georgetown about a year ago, he admired a model of the Brown's Ferry Vessel [a flatbottomed sailboat used on rivers during the 1700's] in the front window of the Rice Museum on Front Street. "That would make a great painting," he remarked to a friend.
Likes, a retired technical illustrator and engineer, combined the old wooden boat and a live oak he had admired at Brookgreen Gardens into a river scene oil painting he called "Slower Times." That painting was selected for the Fourteenth Annual Wooden Boat Show poster.
Likes has been painting since his childhood, spent in the northern Kentucky town of Erlanger, just seven miles south of Cincinnati. He studied at the Central Academy of Commercial Art under artist Pop Storey in the days before photography was widely used in commercial art. He married childhood sweetheart Janet while he was in military service in Aiken, oddly enough, and they moved to southern California in 1961.
For an artist, Likes says, "The West is a beautiful place to live. That's where I developed the techniques and the pallet of colors I prefer." The Sierra Mountains were particularly fascinating for Likes, and he wrote and illustrated a book on silver mining around Cerro Gordo, Calif., and the Owens Valley.
In 1991, Bob and Janet decided to move east to be near their children and settled in the Myrtle Beach area.
---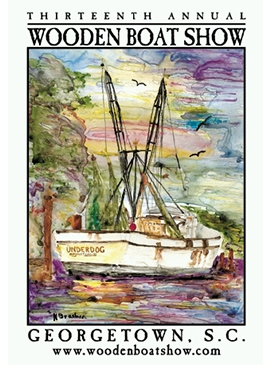 2002 – Nancy Bracken
Nancy Bracken's painting titled "Rearview of the Underdog" was created with water based paints applied to a slick plastic surface called yupo- the result is a melange of color effected by the artist's limited control over the flow of paint on the shiny, textureless surface.
Nancy was born in Jamestown, N.Y. She attended Jamestown Community College, Fredonia State University, and earned a masters degree from New York State University. She and her husband, John, moved to North Litchfield six years ago.
She is a member of Low Country Artists, the Georgetown County Watercolor Society, and the Waccamaw Arts and Crafts Guild.
Her work ranges from painting and collage, to quilting and dollmaking. Nancy's creations can be found at the following area galleries: Art Works in the Litchfield Exchange, South Wind Gallery and the Gray Man Gallery in Pawleys Island, Burroughs and Chapin Gallery Gift Shop in Myrtle Beach, The Original Hammock Shop in Pawleys Island, and the Bath and Etc. Shop in Pawleys Island.
---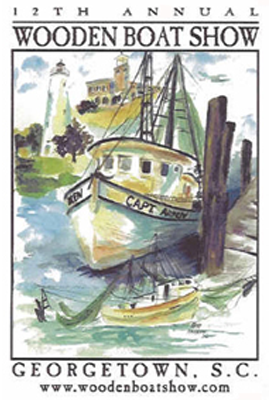 2001 – Kathy Amspacher
Kathy Amspacher, a nurse and social worker by profession, has been painting since she was a child.
She and her husband settled in Pawleys Island two years ago after having lived in a log cabin in the mountains, then on their 37′ sailboat for 10 years while cruising the Intracoastal Waterway. She has fond memories of anchoring in Georgetown's harbor.
Although she has a special affinity for boats and life on the water, she found it difficult to pursue her art while living aboard the boat. She says, "It was just time to become land-lubbers."
Kathy is now a full time artist. She has exhibited her paintings at the Georgetown Art Gallery and at Southwinds Gallery in Pawleys Island. She also paints commissioned works.
---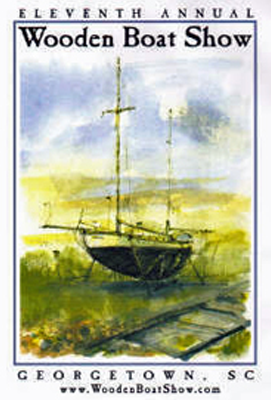 2000 – Charles Walker
Artist Charles Walker is originally from New York and made the move to the South Carolina coast eight years ago.
He graduated Cum Laude from Syracuse University with a Bachelors Degree in Fine Arts. He worked for over 40 years as an illustrator and advertising artist before his retirement and subsequent move south.
He is the father of five children and has been married for 55 years.Walker's artwork was originally a sketch for a painting he planned to do. After completing the preliminary drawing he started playing with color splashes creating the award-winning work of art.
Charles says that he has always had " a love of the sea. I think there must be saltwater in my veins."