2021 Featured Artist – Lee Arthur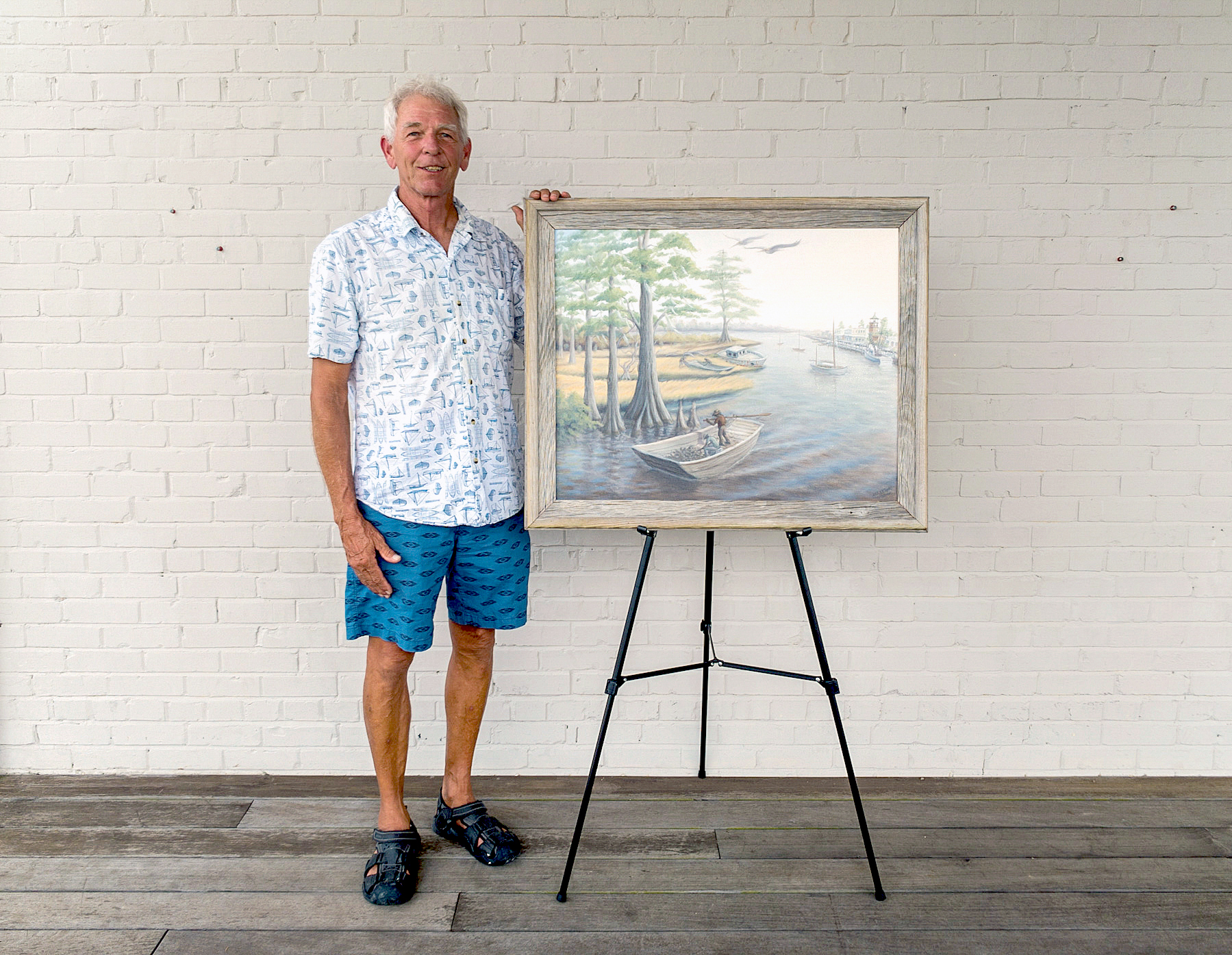 ---
Old Georgetown
Lee Arthur's body of work displays the 2021 Georgetown Wooden Boat Show artist's zest for life and Renaissance curiosity.
You first notice a spark in the 68-year-old artist's eyes, which are friendly with crinkled tan edges. Those eyes flare with interest when a topic he enjoys is mentioned, which can range from driftwood sculptures, silkscreen printing and custom sign making, to surfing, sailing his Chinese junk or flying motorless miniature gliders. And like any proper Renaissance man, there's music in the mix.
Lee thinks his mother likely had a huge influence on his career and interests. He grew up in Charlotte, North Carolina with two brothers and his mom and dad, Mary and Dale Arthur. Mary was a kindergarten teacher who also worked at a nature museum as a serpentologist.
"She used to catch snakes," Lee said, "she'd jump on any snake that was in her pathway, poisonous or not, and put them in a bag in the trunk of our car."
His mother was also an artist in her own right, creating art with a Native American or archaeological feeling, using sea glass and artifacts from coastal plantations.
When he was 15 years old his folks separated, and Lee moved with his mother to Socastee where a surfer dude was born. Their mother gave them 50 cents each for a burger and a drink, and he and his brother got up early to hit the waves.
Lee attended the Ringling School of Art and Design in Florida for a year, then was hired at Fanjoy Signs in Myrtle Beach, where the owner was a gifted commercial artist. For the next three or so years, Lee learned skills that lasted a lifetime, with a highlight being when they were hired to paint the Baden Baden organ at the former Myrtle Beach Pavilion Amusement Park.
Lee struck out on his own doing commercial signs and, as he says, "…they weren't just all lettering, there was artwork involved." He also painted art and lettering on boats, and had a silkscreen business that provided artistic clothing for businesses like Brookgreen Gardens and The Nature Conservancy. Sometimes people commissioned paintings from him. At one point he and his first wife had a butterfly atrium in McClellanville.
But it wasn't all work for Lee. While he kept busy, his playtime still included surfing and boating. He has two boats at the moment – a 28-foot Chinese junk (a story of its own) and a 20-foot oyster boat, both of which he built himself.
Then there are the sculptures. It seems inevitable that his career with wood and paint and carving and nature would lead him to rustic wood sculptures, and this is the medium that garners the most fame. Lee figures he has done thousands of them by now, and while he would not deny they are folk art, he prefers them to be known as refined folk art.
"It's naturally got a rough edge," he said. "It's not like this real polished plastic-looking thing, but I do refine the pieces with sculpting and tight joints."
People give him interesting driftwood. He turns it over and over, looking for the creatures or characteristics that are waiting to be enhanced. What he coaxes out are entrancing and sophisticated flounder, sturgeon, osprey, shrimp, owls, heron, dolphins and turtles. One of his favorites features a giant squid attacking a whale.
"I've done dolphins swimming around each other, and they started as root systems that grew around each other, and I have to carve them out of that. One time I did a Chinese-style dragon, and it was big, too. The client mounted it over his bed."
Anyone who has walked the Marshwalk in Murrells Inlet is familiar with the carved statue of Bubba Love, which Lee made. In 2013 he was the featured artist at the Winyah Bay Heritage Festival, and a sturgeon he crafted fetched thousands of dollars for the non-profit.
When Lee was asked to be the 2021 Wooden Boat Show artist, he was happy to help. While he does research to ensure his work is historically and zoologically accurate, he says he "knew what I was doing for this painting."
Titled "Old Georgetown," the point of view is as someone approaches the town docks from Winyah Bay. On the left, in the foreground, are two oystermen in a 20-foot cypress oyster boat.
"Those were real big and heavy and massive," Lee said. "They carry a lot of oysters, I mean a hundred bushels wouldn't even put it down in the water. So two guys would man the boat, one to pole and row."
Next to catch the eye is another oyster boat, then an abandoned boat, cypress trees and a couple of shore birds flying overhead. Several types of wooden boats are painted on the river and at the docks, and to the right is the backside of Front Street from days gone by, with its familiar clock tower and storefronts. The water has a tannic cypress sheen, and the overall feeling is a town that is in harmony with nature.
These days Lee works and plays as hard as ever. He lives with his significant other, Gwin McKinnon, in Pawleys Island, and her 5-year-old grandson is a frequent sidekick. He stays busy with his work and other fun projects, like making a Red Baron Snoopy to cover their mailbox, or flying lightweight motorless gliders that he steers with remote control. Sometimes he is inspired to make music, and when he goes to parties he might bring a harmonica, flute or clarinet.
Lee says he will never really retire, because he can't imagine not making art. But he and Gwin hope to travel more, especially to places where he can surf, and he looks forward to watching the art career of his daughter, Lane, grow in New York City.
Lee Arthur's original oil painting, Old Georgetown, will be auctioned at the 2021 Goat Island Yacht Club Regatta scheduled for 6:30-10 p.m. on Friday, Oct. 15. Posters and T-shirts featuring the painting will be for sale at the Georgetown Wooden Boat Show on Oct.16-17; at the SC Maritime Museum; and online.