2013 Poster Artist – Susan Tiller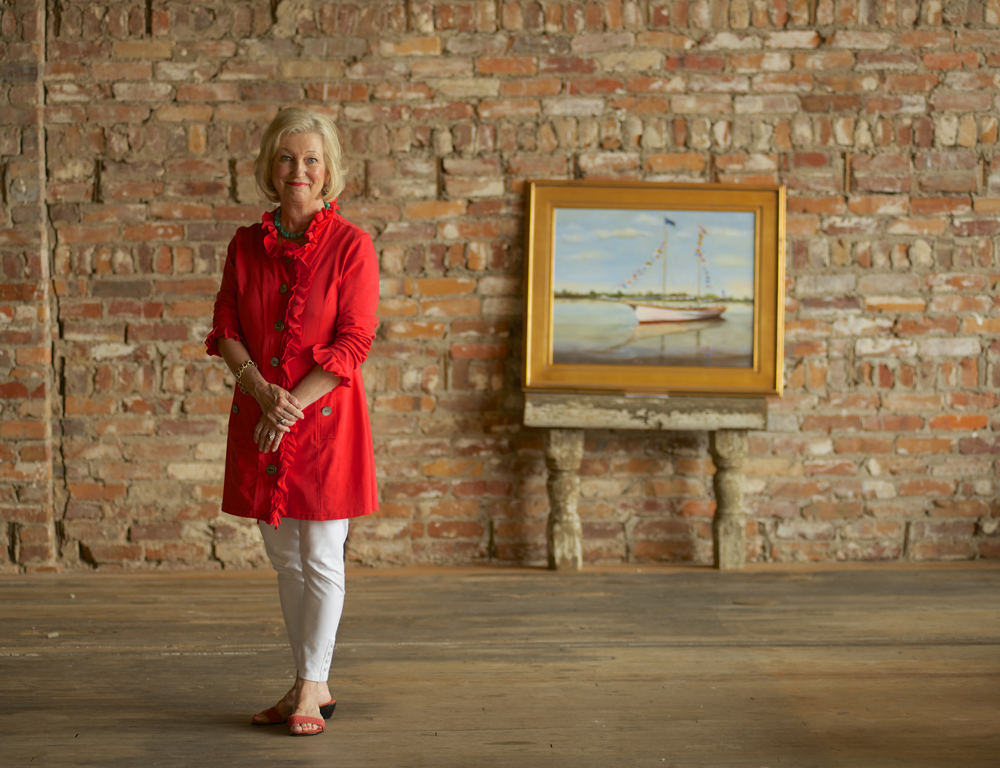 Susan Tiller recreated and enhanced a valuable piece of Georgetown history with her painting titled "Dressed for the Occasion," which is featured on the 2013 Wooden Boat Show poster.
After the board of the South Carolina Maritime Museum asked Tiller to be the 2013 poster artist, her husband, Hank, suggested painting a pilot boat. Pilot boats help guide ships into harbors, either by leading them or by bringing a harbor captain who boards the ship and pilots it to the dock."They'd never done a pilot boat before for this event," she said, "and shipping was an important industry here."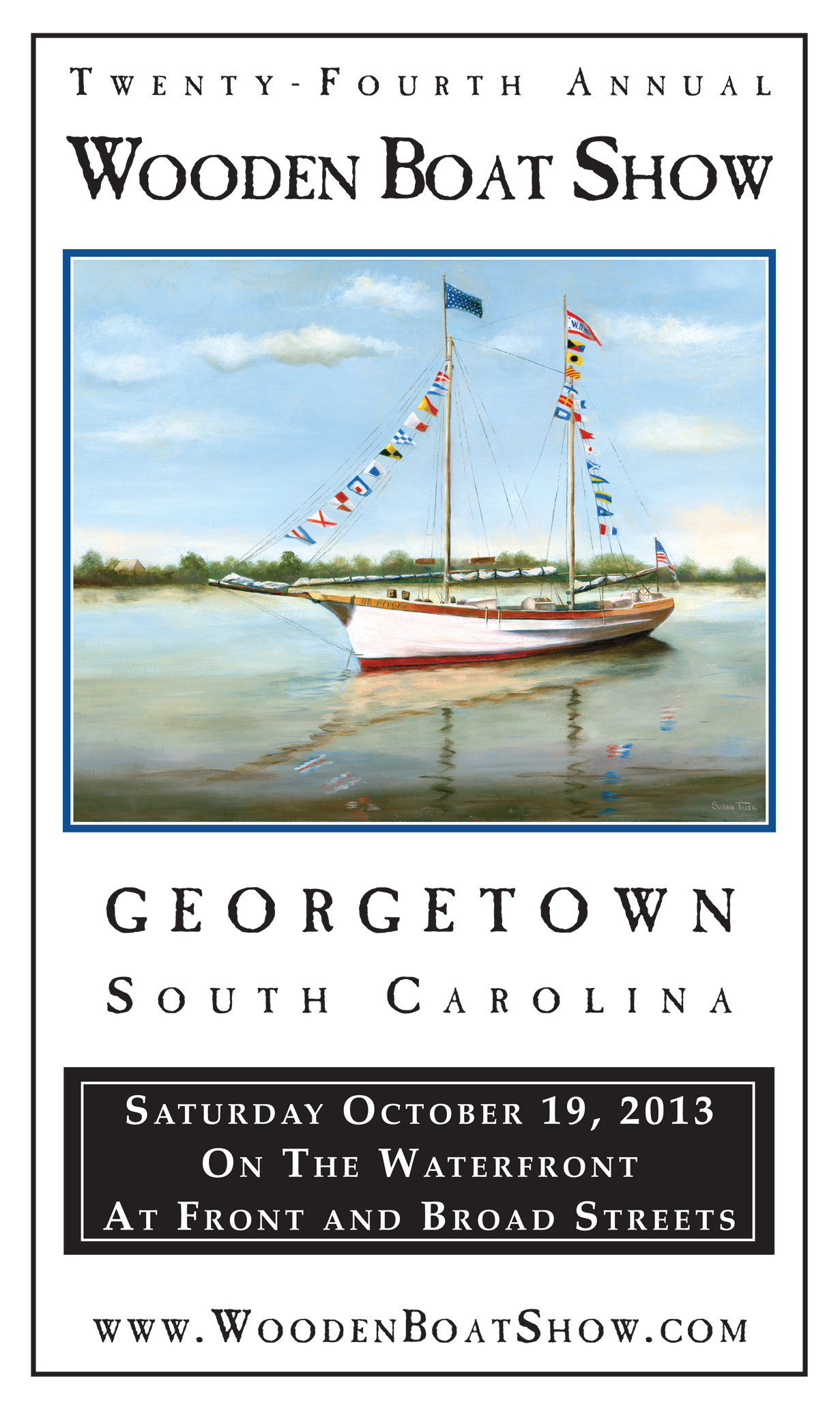 Tiller contacted Georgetown harbor pilot Edwin Jayroe and asked if he had any vintage pilot boat photos. He owns a black and white photo of the W.D. Morgan taken on Dec. 19, 1905, when Georgetown celebrated its incorporation centennial with a street parade and a boat parade. Its namesake owner, W.D. Morgan, was a much beloved mayor of Georgetown from 1892-1906, and he used the pilot boat as a yacht. The photo is also part of the Morgan-Trenholm Collection in the Georgetown County Digital Library, and Tiller secured permission from them to paint it for the museum.
The old photo shows the boat's masts festooned with international signal flags; each colorful flag represents a letter of the alphabet. Such adornment was a common way for boats to be "dressed" for special events. Susan Sanders, director of the S.C. Maritime Museum, helped Tiller decipher each flag from the slightly blurred photo so she could accurately depict them in her painted interpretation.
Tiller's artistic style is "between realistic and impressionistic," and she worked off and on for months capturing the boat and its flags with historic accuracy while offering beautiful impressions of the momentous occasion.
"I wanted to capture the temperature of that chilly December day," she said. "I also wanted to capture the feel of that classic old sailboat, and I wanted it to look like it could have been painted in 1905."
Edwin Jayroe also loaned to Tiller a book titled "Pilots: The World of Pilotage Under Sail and Oar," from Wooden Boat Publications. The same photo of the W.D. Morgan is in the book, and a caption revealed the boat was eventually sold to Charleston pilots, renamed the J P Denham and used until the 1970s as a barge on the Wando River.
"The proportions of her wheel and hatches indicate that she is of no great size," the caption reads. "Indeed, the height of all her coamings hints at low headroom and shoal draught. Lightly rigged, with a single shroud per side at the main and only two on the fore, she carries a heavy rubbing strake not generally in evidence on her shapelier consorts…She has very short masts and seems to be motorized."
Tiller's art career is an interesting journey that started when she was a second-grader in Lincolnton, N.C., and joined several of her friends for weekly 90-minute art lessons from a private instructor. She continued the lessons through high school and won an art lesson scholarship with a "best of show" painting.Art was put aside as Tiller earned a degree in home economics from the University of North Carolina at Greensboro. She resumed lessons for a brief time after moving to Georgetown but gave it up again to work full-time for 31 years as the director of child nutrition programs for Georgetown County Schools and to raise her two sons.
In 2000, after retiring from her school job, Tiller again picked up her paintbrushes and took lessons from and attended art workshops with notable artists. She has a studio in hers and Hank's home in Windsor Plantation overlooking the Black River, and her favorite subject is hydrangeas arranged in blue and white Chinese porcelain. She also paints boats – she and Hank have a 1963 Bunker & Ellis Maine lobster boat they use for picnics in Georgetown Harbor.
Tiller's second career has been successful, and she has sold paintings into collections throughout the United States and Europe. She is a member of a 20-artist co-op at the Georgetown Art Gallery on Front Street and is currently the group's president. Her works can also be viewed at Goudelock Gift Shop and the Rice Paddy Restaurant.
---
For the previous 10 years she has donated paintings for the maritime museum's annual Goat Island Yacht Club Regatta silent auction, but this year "Dressed for the Occasion" will be sold at a live auction the night before the 24th Annual Wooden Boat Show.