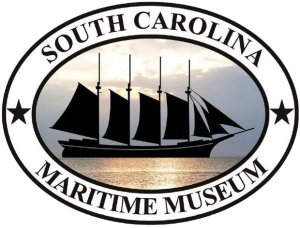 Visit Our Website
Thanks to the strong support of the Georgetown Wooden Boat Show by the Georgetown community since the early 90's, the Show has grown to become the best of its kind on the southeast coast. With its growth has come enough prosperity to enable the Harbor Historical Association (HHA), the 501(c)(3) group that has run the Show from its start, to invest in a maritime museum, a long term goal of the group. The museum opened its doors in late 2011 with a small, but tasteful, beginning and with a vision of also becoming the best of its kind in the Southeast.
The building in which the Museum is housed is appropriate; the backdoor looks out over the historic Georgetown harbor. The building itself is historic, having been built in the 1920's. It catered to commercial interests until 1988 when it was vacated. Having remained empty for over twenty years, extensive renovations on the 5,000 square foot space were needed. But it took only three months to do the work because the Harbor Historical group was anxious to have the new Museum ready for the 2011 Wooden Boat Show. The space was proudly presented for the Friday night auction and for sponsor hospitality on Saturday.
Finishing touches were added after the Boat Show: one-third of the old maple flooring was sanded and varnished, becoming shipshape and in Bristol fashion. A canvas partition was erected where the floor refinishing ended, and inside the spick-and-
span area was housed the museum exhibits and a small gift shop. It was a modest beginning but an auspicious one. The museum was named the South Carolina Maritime Museum and brought aboard its first employee, Susan Sanders, as its director.
Several Harbor Historical events have been held at the Museum in 2012 and 2013, as well as outside events and parties. More and more exhibits are being added with time, and the public visitors' response has been enthusiastic. The Museum has also been accepted by the local community with pride.
The Museum was miraculously spared from the destruction of the Front Street fire in September of 2013. Seven adjacent buildings were totally destroyed by the fire, but the eighteen inch brick wall on the fire side apparently was enough barrier to keep the Museum whole and presentable for the 2013 Wooden Boat Show.
The launching and early trials and tribulations of the South Carolina Maritime Museum appear to be seaworthy.
For more information or donations, please contact museum manager Melissa Small at info@sc-mm.org